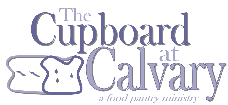 During the time of COVID Restrictions:
The Cupboard continues to operate during its regular hours, however we have limited the number of volunteers. Volunteers are required to take safety precautions (such as masks, etc.) Clients may not currently "shop" at the pantry. Clients will be given a pre-prepared box of food items based upon the size of the family. Thank you for cooperating with any special rules or requests we are enacting during these challenging times.
The Cupboard at Calvary food pantry (The Cupboard) is a mission of Calvary United Methodist Church (CUMC). The Cupboard at Calvary United Methodist Church underwent a change in sponsorship and name in February of 2010. This pantry has been operating at Calvary United Methodist Church since March, 2008, when it was accepted as a member agency of the Central Pennsylvania Food Bank (CPFB). The Cupboard currently serves a client base which may number from 88 to 130 families in a single regularly-scheduled distribution. All of the Cupboard's activities, including its twice-monthly, year-round distributions, are handled by a large number of dedicated volunteers.
The Cupboard is governed by an oversight committee, a regular committee of CUMC, consisting of nine individuals dedicated to alleviating the hunger problem which exists in out local community. In addition, CUMC's two ministers serve as ex-officio on this committee.
THE CUPBOARD LOCATION
The Cupboard is located at Calvary United Methodist Church, 4700 Locust Lane, Harrisburg, PA 17109. Please use the entrance on the back side of the building – along Constitution Avenue. Click on "Directions" on the sidebar to the right for a map and directions.
WHO VOLUNTEERS AT THE CUPBOARD?
Over the years the number and source of volunteers has varied widely. Volunteers have come from high school clubs such as Key Club, cheerleaders, churches, sports teams, Youth Advocates, Girl Scouts, Boy Scouts, youth/adults from Calvary United Methodist Church, students fulfilling community service requirements, etc.
WHAT SERVICES DOES THE CUPBOARD PROVIDE?
The Cupboard provides a variety of canned fruits, vegetables, soups, stews, juices, and other items. In addition, meats, fresh produce, bread, and baked goods are also made available to our consumers. Cleaning, laundry, and personal products are also distributed. The amount of food received by a client family is based on the number of individuals in that family. The Cupboard also provided Thanksgiving and Christmas turkeys for 150 families at each holiday in 2009. During the summer of 2009, the Cupboard provided additional food to families with children eligible for free breakfasts, and free or reduced lunches during the school year.
The Cupboard's services are also available to any individual or family in the area on an emergency basis. These referrals are accepted from CPFB, a variety of social service agencies, and personal calls to the church office. In 2009, the Cupboard received more referrals from social service agencies than in years past.
WHERE DOES THE FOOD COME FROM?
Food has been donated from many different sources. The largest donor over the years has been Calvary United Methodist Church. There have been donations from other churches, many different schools, scouts, high school clubs, some businesses, etc. We also use donated funds to purchase food from the Central Pennsylvania Food Bank.
Learn more with this PowerPoint The Cupboard at Calvary Power Point
WHO DO WE SERVE?
As of July 1, 2010, we serve those who live in our service area which is defined as the 17109, 17111 and 17112 zip codes.
WHEN DO WE SERVE?
Dates: Second and fourth Thursday of each month, except when a nationally recognized or church holiday falls on or very close those days. In such instances, distribution will be on Tuesday of the week of distribution.
Hours: 4:30 PM – 6:00 PM
Note: Inclement weather closings are based on a decision by the oversight committee and are communicated to local radio and TV stations.
HOW DO CLIENTS REGISTER?
An adult must be present to register either an individual or family. Clients must provide identification with name and address. If there are children under 18 in the household, please bring each child's birth certificate or passport.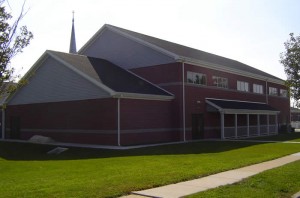 WHERE ARE WE LOCATED?
Calvary United Methodist Church
4700 Locust Lane
Harrisburg, PA. 17109
Please use the entrance at the rear of the church from Constitution Avenue
Doors do not open until 4:30 PM.

Individuals are permitted a maximum of eight (8) pounds of weighed food.

Families are permitted a maximum of six (6) pounds of weighed food per person in family up to a maximum of thirty-five (35) pounds per family.

Please use off-street parking along Constitution Avenue or surrounding streets and respect our neighbors by not parking in front of driveways.

If you have questions please call the church office at (717) 545-0021
DONATE TIME …
Volunteers are the backbone of The Cupboard. Volunteers can commit to once a year, once a month, or for both monthly distributions. You or your group can assist in the stocking and distribution of food to those in need. Contact Calvary's church office at (717) 545-0021 to volunteer.
DONATE ITEMS …
Top Ten Needs of the The Cupboard at Calvary
Canned Fruit (peaches, pears, mixed, etc.)

Canned Meats (tuna, salmon, spam, etc.)

Canned Soups and Stews

Canned Vegetables (peas, beans, carrots, corn, etc.)

Cereal

Pasta and Pasta Sauce (spaghetti, macaroni, spaghetti sauce, etc.)

Peanut Butter, Jelly

Cleaning Supplies (laundry detergent, dishwashing liquid, etc.)

Paper Products (napkins, paper towels tissues, toilet paper, etc.)

Toiletries (soap, toothpaste, toothbrushes, shampoo, deodorant, etc.)

Health Conscious Items (low sodium, low fat, low sugar)
Also, if your family can use it, chances are it is appropriate to donate.Coordinate a food drive through your organization or school.
Are you a grocery store, food grower, manufacturer, or distributor, or a catering business or restaurant? You can donate perishable or non-perishable food items.
Contact Calvary's church office at (717) 545-0021 for more information.
DONATE MONEY …
Our relationship with the Central Penn Food Bank allows us to maximize the purchasing power of each donated dollar used for obtaining food. Since the quantity and variety of donated foods fluctuate each year, monetary gifts provide us with the flexibility to provide the optimal nutritional mix of foods throughout the year.
Financial contributions can be dropped off at or mailed to:
Calvary United Methodist Church
4700 Locust Lane
Harrisburg, PA. 17109
If paying by check, please make payable to Calvary UMC and write For The Cupboard at Calvary Food Pantry in memo line.